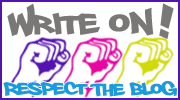 The
Blog Herald
states that the are probably Fifty Million Blogs in existence. Maybe that is why so many journalists are feeling threatened. Maybe that is why the people at Times On line wrote the article that they did. They do seem to have it out for bloggers.
The authors of this article, surmise that most bloggers are motivated by narcissism, and of self aggrandizing motives. We are all seekers of adulation.
Not their words but definitely implied!
They seem to be very hard on the mommy bloggers in particular by making them out to be
ahem
bad mommies who put their blogging before their children. That is what I came away with.
Perhaps it is the mainly the BIG blogs that have gained their disdain, you know, the blogs that are making money. They seem to have a lack of understanding that the people who are making the money have worked hard, have talent and are sometimes journalists themselves. They avoid the fact that the types of blogs out in blog land are as diverse as the people themselves are. They do not mention: political blogs, photographic blogs, cooking blogs, sports blogs, fitness blogs, humor blogs, religious blogs and blogs designed to help others through traumatic times. I could go on and on.
They make it sound as if you can not make a real friend through blogs. I know for a fact that this is not true. Many of us have got to hug the friends that we have made, not virtual hugs but real bona fide hugs, real people that have become real friends.
Worst of all,while I believe that everybody is entitled to their opinions, I do have a problem with the unethical manner that the authors have gone to in expressing them. They did not interview Don Mills Diva yet they make it sound as if they did. They did not ask her if they could use her material. I wonder how many of the other so called interviews have been lifted. This is very unprofessional and misleading.
I will not allow this type of article make me feel ashamed of my humble little blog. I will write on. Hopefully I will improve my writing skills. To all the other humble bloggers: "Write on! You can and you count." To the people at Times On Line, I say "Fifty Million people is a lot of people. Does that not tell you something? Maybe you should get a blog and learn blog ethics. Learn to use your link button. Ask permission for goodness sake!"
Follow the story from
Lucy's
blog to
Don Mills
Diva
to the
Times On Line
article about the dangers of blogging.